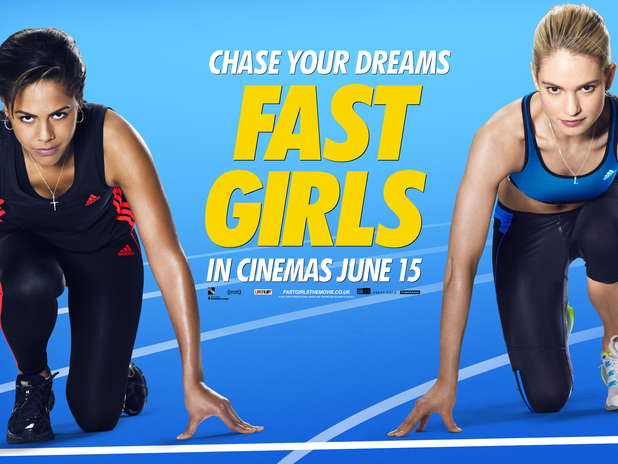 Let's take a trip back to a nicer time in movie history shall we? A time when sports movies such as Rocky, Cool Runnings, and even a League of Their Own inspired some sort of magic in their audiences that nearly made us want to hit the ring/pitch/ or bobsleighing tunnel in pursuit of our own sporting dreams.
Flash forward to 2012 and our latest sports movie, Fast Girls, makes us want to hit the bar, toilets or vending machine – in pursuit of anything but having to actually sit in front of the screen.
It was with an open- mind and a hopeful disposition that I went to see this movie. Granted the name conjures images of bikini-clad girls in cars, but I decided I would not be prejudice and give this low-budget British sports movie a fair chance.
On hearing the premise of the movie – misunderstood girl from the ghetto comes up against blond privileged posh girl in their mutual pursuit of the same athletic dream – it all sounded very familiar.
Twenty minutes into this movie it was far too familiar as it really seemed like nothing more than Bend it Like Beckham in running shoes.
The London Olympics of 2012 was bound to gather a few fellow travellers on its giant band wagon ride and this movie definitely seems to have its bags firmly packed in hope of gaining money from a soon-to-be Olympics obsessed nation. This is understandable. It is perfectly apt and well overdue to release a good sports movie, but it is the lackadaisical efforts on the director, producer, and writers'part that make it a little offensive.
Did producer and co-writer Damian Jones really think we had all suffered some sort of amnesia and had utterly forgotten about the last British feel good sports movie that was Bend it like Beckham? On watching this film, it seems perhaps Jones might have sat down one Sunday evening, switched on the telly to find it on air and remembered the Olympics was coming up, subsequently putting two and two together and coming up with what he hoped would be millions in box-office profits. It seems Mr. Jones needs to check those figures again and give his audience a little more credit.
The story centres around Shania Andrews (Leonora Crichlow) who is competing for the World Athletic Championships – the name Olympics had already been taken and is heavily protected by copyright laws. Leonora, who has lost all her family except for her brain dead sister and slightly fed-up aunt, comes from the lesser of posh areas in London and is trained by a local newsagent and his Toto like dog – cut to various scenes of her running through public parks while her trainer and his dog cycle behind.
We are then shown Lisa Temple (Lily James) a well-to-do rich girl with posters of fluffy things and shiny medals adorning her bedroom. Although Lisa's dad has her well connected in the athletic world he also proves to put his daughter under huge pressure- ultimately turning her into Shania's worst nightmare on the tracks, if a worst nightmare means bitchy looks and vicious flicks of a blond ponytail.
The rest of the movie tells of their growing friendship and road to World Athletic Championship success despite a mutual love interest in their physiotherapist.
Along the way we are thrown a few less then awe-inspiring motivational speeches from unconvincing actors, standard scenes showing a harsh life in a London ghetto where people don't run but sit on their couches (Oh the horror), and finally presented with a local running track and made to believe it is the World Athletic Championship Stadium, please Mr. Jones, we have had enough.
Perhaps the most disappointing thing about this movie is the potential it had to begin with. The Olympic Games surely allow for all matters of sports adventures and stories that many of us would revel in on the big screen, but rather then put the effort into providing us with a much needed newly thought of sports movie that packs a punch, we are delivered with a regurgitated version of a movie that, let's face it, in its time really wasn't all that good.