Published in The Irish World newspaper on 15/052013
The Life of Stuff
won Best New Play on its debut at the Donmar Warehouse in 1993. It has been revived recently by director Paul Robinson in Battersea's Theatre503.
The intimate setting of The Latchmere's Theatre503 leaves no prisoners in terms of the measure of a good performance. With it's limited seating and basement style layout you are close enough to the stage to be almost part of all that is happening, which is great for any avid theatre goer who wants to feel the full throttle of a good play but daunting and nerve wracking, I imagine, for any actor playing a part.
The layout of this snug theatre therefore allows an audience member to quite quickly gauge whether the performances are in any way convincing and so, in my opinion, it takes real talent and a great script to make it a success.
In the case of The Life of Stuff, this tricky task was accomplished incredibly well as once the stage first lit up we were immediately transported back to a 90's Edinburgh nightclub in which leopard print surroundings, tacky strobe lighting, glitter and ghetto blasters reigned supreme.
Simon Donald's play doesn't waste any time in getting to the true grit of this story, as within the first 10 minutes we were presented with acid driven delinquents raving furiously on podiums to club music, a vomiting patron who has remained on the dance floor from the night before, and a threatening character alluding to the mayhem that will ensue through his conversation with his real life boa constrictor.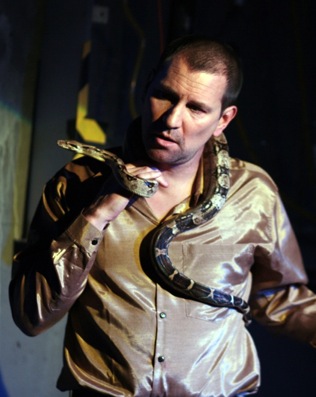 It was all this and more that made the audience aware that they had indeed come to a hard hitting play set in Edinburgh's drug-fuelled 90's underbelly and that there would be no mention of bag pipes, castles, or any of the splendour for which the city is often known.
We are briskly introduced to an array of hopeless lost souls, Willie Dobie, played by Gregory Finnegan, an actor with Irish roots, played the nightclub owner who, at first, seems to run the whole show.
Holly and Evelyn - two young girls whose love for drugs and partying have led them to work for Dobie, played by Paula Masterson and Pamela Dwyer
Leonard (Rhys Owen) a mentally unhinged DJ who suffers from a severe case of nervous eczema, and Arboghast (Cameron Jack) a foreboding gangster-type who keeps them all on their feet with his aggressive approach to communication. All of whom are brought together through their mutual lack of ambition and love for hard drugs.
As the play continues we get to know the characters and understand why they have ended up in such a hopeless situation. We begin to almost feel sorry for them as we see that their relationships are heavily punctuated by deceit and insecurity.
The play takes many twists and turns, most of which are backed by clubbing tunes which help to lighten the mood as the main body of the story is a quite dark and tragic one.
The play does offer some intelligent humour which can be enjoyed on various levels. However this whirlwind of hard drugs and even harder characters is not for the faint hearted as nudity, live snakes, drug and alcohol abuse, violence and vomiting are characters in themselves. Having said that, its setting leaves it no choice but to show that era for what it was and the near to flawless performances from each actor made this play unforgettable for a variety of reasons- most of which were positive.