By Leah Quinn- published in The Irish World newspaper
The story of King Henry VIII and his many wives is one which has fascinating the world for centuries. Although, on most occasions, it seems to feature a greedy larger than life tyrant who seduces and destroys most of the women who are unlucky enough to receive his affections.
Hilary Mantel's books owe their huge popularity, in some part. to the original angle at which she tells the story we all already know. Mantel keeps the main body of events intact but shows a more humane side by portraying King Henry's women as wilful and ambitious rather than victims who are overwhelmed by his enormous stature and status.
The Aldwych Theatre currently shows Mantel's version of events under the direction of Jeremy Herrin.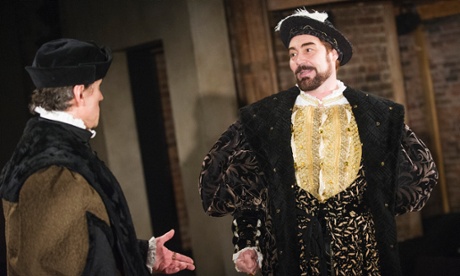 Bring up the Bodies
focuses on the part of the story when Anne Boleyn begins her demise and Thomas Cromwell is growing in power within the English monarchy. The play began with the dramatic killing of a stag at the hand of King Henry's arrow, he then begins to dismember the animal and reap glory in its blood- an image which no doubt symbolised the brutality of the time and the man himself.
It is not long into the play when his affections turn towards Jane Seymour. At this point he is waiting for his first wife, Catherine of Aragon, to die and has grown tired of his second wife Anne Boleyn who has also failed to give him a son.
From this point we begin to see the fall of Anne Boleyn as queen and the part in which Thomas Cromwell played in her gruesome end- "It's as if I don't exist…it's as if I never had Elizabeth and Catherine is still queen".
The characters and script showed how, although Anne was no wilting flower, her trial was grossly unjust as all evidence seemed to be based on the King's personal intentions to rid himself of her and general gossip among her ladies maids.
Although this play dealt with some very dark periods in history the excellent script and skilful unwinding of the story made for a thoroughly enjoyable performance. Despite the often dark undertones and continuous looming threat to Anne's life, there were many causes to laugh as unexpected wit seemed to filter through in many scenes. This is certainly an important play to see as it puts a different perspective on the characters of a story we all think we know.
T
ickets are still available to buy for Wolf Hall and Bring Up the Bodies, with best availability in July and August. Day Seats are available to purchase in person at the Box Office from

10.30am

on the day of performance.