Published in The Irish World newspaper 17/06/2015
Many stage plays

which have been converted to the screen have often fallen flat on impact. Beckett's work however, transcribes perfectly and allows for a more visual experience for the audience.
Beckett himself, adapted certain plays for the screen, and each of piece in this screening explore the theme of relationships in a riot of vivid costuming and make up.
Broken into three parts, the Love, Loss and Laughter screening featured
Ohio Impromptu
starring Jeremy Irons, Play starring Alan Rickman
,

Kristen Scott Thomas

and Juliet Stevenson and Happy Days starring ,the much celebrated Irish actress, Rosaleen Linehan.
Screened in Cinema 3 as part of the Barbican's Beckett season this full course of cinematic artistry was a visual feast for the eyes.
Ohio Impromtu
stars a sullen Jeremy Irons reading an extract from a book to another, more distressed, version of himself. His other self seems anxious as he reads and often interrupts the recital with an abrupt bang on the table from his fist. Both versions seem weary of each other and uncomfortable with the words being read. Beckett explores ones relationship with one's own demons in this piece and the effect the mind and memories can play on a person's own well being.
Play
is a more obscure piece, set in a graveyard type scene with only the heads of its three main characters visible as they monologue about an adulterous experience shared between them. Each seem to be concealed from the neck down in giant urns with scorched and rotting skin, raising the question as to whether they are indeed speaking from the grave. This piece was skilful and effectual as each character tells their own version of the tale.
Happy Days
was the longest film of the three. The play opens with Rosaleen Linehan immersed up to the waist in a mound of sand as she awakens to an unnerving bell sound. She makes the most of her desperate situation by taking out all of her belongings from her bag and occasionally trying to get her husband to engage with her, who is mainly absent from view as he bathes in the sun behind the mound. This was a powerful piece and truly displayed Linehan's talents at their best.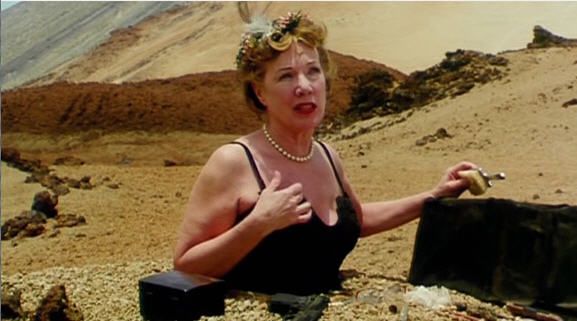 Each piece was very different yet loyal to the theme of relationships and the complications they can bring. The cinematography, make up and costumes made for exciting viewing and
each actor's delivery was haunting, disturbing but ultimately humane which Beckett seemed to influence through his unique way with words.
Beckett on Screen: Love, Loss and Laughter plays at Cinema 3 in Barbican until June 14th.